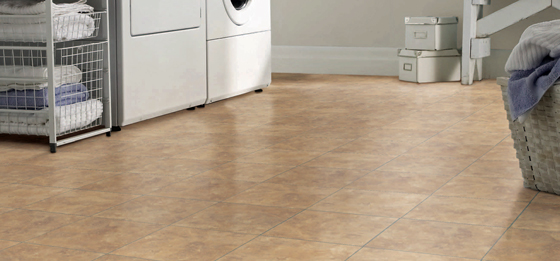 EASY TO CLEAN AND MAINTAIN WITH COUNTLESS OPTIONS

Not only is tile flooring long-lasting, but it is also easy to clean and maintain over the years. Tile naturally resists stains, odors, and dirt. Periodically cleaning the floor with a damp mop or sponge and a common household cleaner is enough to keep your tile floor looking like new for years to come. The ease of cleaning and maintaining this flooring makes it a great option for high-traffic areas.
Today's tile flooring offers plenty of options to achieve just the look you want. From ceramic and porcelain tile to natural stone, tiles come in a variety of shapes, sizes, and colors. This flooring option truly lets you create a one of a kind design in any room.


AN ENVIRONMENTALLY-FRIENDLY CHOICE

Tile flooring's natural hard, solid surface makes it less prone to attract dirt, pollen, and other allergens in the home. There are also many options for recycled-content tile, which is generally manufactured from recycled glass. When looking for a low-maintenance floor that will last for years, tile should be on the top of your list.
Come into our Showroom to take a look at our selection of Ceramic Tile, Porcelain Tiles, and Natural Stone Tile. You will be sure to find something you would love to have on your floor.