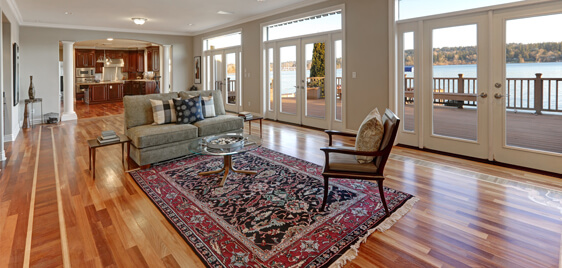 TYPES OF AREA RUGS TO CHOOSE FROM

Before you even begin thinking about the color and pattern of an area rug, you will need to decide what type of rug is right for you. Area rugs are available in wool, natural fiber, hair-on-hide, cotton or synthetic. Each of these types of rugs offer their own advantages based on the room and your personal preferences.
When most people think of area rugs they immediately consider a circle or square rug. However, this flooring option actually come in a variety of shapes, including octagons and runners for a hall or stairs. Area rugs also come in an array of sizes, from those spanning the entire room to smaller accent rugs.
The choices of size, shape, color and pattern that area rugs have to offer allow you to truly customize a room with this flooring option. You can add a splash of color and design, making the area rug the focal design point of a room, or use an area rug to create a more neutral warmth blending in to the room's decor.


STOP BY OUR SHOWROOM AND BROWSE THE WIDE SELECTION OF AREA RUGS

Cardoza Flooring stocks a wide selection of area rugs in our Milford showroom. The opportunity to see in person, touch and visualize the rug for your room can make a big difference. Whether you have a clear vision of the area rug that you are looking for or you simply want to see what we have to offer, stop by our showroom to peruse our wide selection.
Feeling overwhelmed by the choices? Our team has an eye for design and can help you to find that perfect area rug for you.